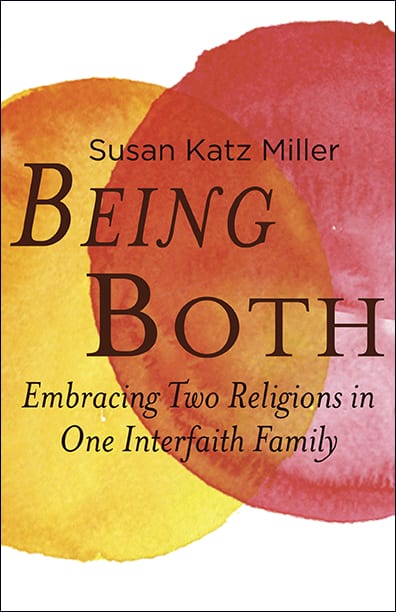 Embracing Two Religions in One Interfaith Family
Being Both: Embracing Two Religions in One Interfaith Family chronicles the rise of a controversial new grassroots movement: interfaith families choosing to celebrate both religions. Miller, a former Newsweek reporter, interweaves her own story with original reporting, and with hundreds of responses from original surveys of parents who chose both religions, and of their grown interfaith children. She describes the formation of communities, across the country, pioneering interfaith education for interfaith children.  The result is the first book by an adult interfaith child to advocate for the right of interfaith families to claim, and embrace, both family religions. Being Both is also the first book to give voice to a new generation of interfaith children growing up with formal interfaith education.
Miller makes the case that each pathway open to an interfaith family—choosing one religion, choosing both family religions, or choosing no religion—has distinct benefits and challenges. Now, in major cities including Philadelphia, Minneapolis, and San Diego, more children are being raised "Jewish and something else" or "partially Jewish" than with Judaism alone. What does this mean for these families, for these children, and for religious institutions?
Young couples, grandparents, extended family, therapists, religious educators, clergy, high school teachers, college professors, and religious leadership will all find this book helpful in understanding the rise of "doing both," and how it fits into the rise of the "religious nones," and the rise of the "spiritual but not religious." Being Both focuses primarily on Jewish and Christian families, but includes the stories of Muslim, Hindu and Buddhist interfaith families: the next interfaith wave. Finally, Miller makes the case that interfaith families should be at the center of, rather than excluded from, the growing interfaith engagement and activism movement. Interfaith families live and breathe interfaith collaboration and cooperation, and could become leaders in bringing about a world of peaceful religious pluralism.
Book Reviews and Comments
"A moving, personal story that opens new dimensions of life in general and religious life in particular that rise out of an interfaith family. Susan Katz Miller writes with the passion of experience and with the integrity of being authentic. Its insights moved me deeply."
"Miller's enthusiasm and exhilaration at the prospect of a new generation of interfaith Americans 'healing the world' is cause for celebration. Recommended to faith practitioners of all stripes."
"An insightful examination of one way that religious beliefs are shaping American families."
Kirkus Reviews
"…Miller gathered the stories of how these families successfully raised children who are happily interfaith and intend to raise interfaith children themselves. Miller concludes this fine resource with a look at the next wave of, this time, Christian-Muslim and Christian-Hindu interfaith families."
Booklist
"Religion is never static, and always reflects the needs and mores of those who adopt and adapt it. In Being Both, Susan Katz Miller brings us into the emergent world of interfaith families, families who seek to blend traditions that others find mutually exclusive. Whatever your thoughts on religion and interfaith marriage, this book will help you think more clearly. And if you are in an interfaith marriage yourself, it may help you live more courageously."
Rabbi Rami Shapiro, author of The Sacred Art of Lovingkindness
"Hallejullah!  This is the book interfaith families like mine have been waiting for!  Susan Katz Miller serves as a wise, well-informed, progressive, steady, and plainspoken guide to the challenges and benefits–yes!  benefits!–of raising children with two faith traditions.  Reading this book I dropped tears on the pages because I felt for the first time my family was affirmed and understood and, most importantly, not alone.  This is a singular contribution to the conversation on the future of religion in America.  Every interfaith family and every religious leader who works with interfaith families should read Being Both."
Joanna Brooks, author of The Book of Mormon Girl
"A gorgeous and inspiring testament to the power of love to not only transcend the divides of faith and tradition, but to bring faiths together and create wholly new traditions."
Reza Aslan, author of No god but God and Zealot: The Life and Times of Jesus of Nazareth
"Interfaith families are transforming the face of religion today. People are marrying others from different religions–and they are celebrating the two traditions! For anyone who cares about families or about religion–or both–Susan Katz Miller's Being Both is a must read."
Sheila C. Gordon, President, Interfaith Community.
"Engaging, comprehensive, nourishing: Being Both will serve as both guidebook and inspiration for a new generation of interfaith families."
Mary Heléne Rosenbaum, co-author, Celebrating Our Differences: Living Two Faiths in One Marriage
"Being Both counters both the gloomy outlook and the 'pick one' assumption with stats and first-person accounts from couples who have happily and successfully embraced their difference…(an) outstanding, levelheaded book,"
Dale McGowan, author of In Faith and In Doubt
"Being Both is a book we love,"
J. Dana Trent, author of Saffron Cross: The Unlikely Story of How a Christian Minister Married a Hindu Monk.
"I love this book…(It) proudly celebrates the joys of choosing this path, including the empowerment that comes from families choosing to bring all of themselves to the table in communities that are ready to accept them fully."
Sharron Mendel Swain, blogger at Adventures on the mindful path
"Being both might contribute to tikkun olam: now there's a chutzpahdik assertion,"
Rabbi Rachel Barenblat, writing at The Velveteen Rabbi blog.
"Perhaps the most important contribution of Katz Miller's work is her collection of interviews with people raised in interfaith homes," 
Samira K. Mehta, Religion in American History blog.
"…a fascinating, in-depth exploration of what engaged interreligious, spiritual education can mean…"
Paul Chaffee, The Interfaith Observer blog.
"Miller makes a good case for the benefits of dual-faith life…"
Frederic and Mary Ann Brussat, Spirituality & Practice blog.
"…an important, thought-provoking book for Jews and Christians, and interfaith families,"
Judy Bolton-Fasman, the Boston Jewish Advocate.
"Miller provides much-awaited research to back up positive experiences with interfaith education that I do hope many traditional religious leaders will consider,"
Lauren Zinn, ZinnHouse blog.
"…a provocative and heartfelt analysis of the role of religion and heritage in contemporary family life," 
Jessie Szalay, The Sisterhood Blog, Jewish Daily Forward.
"For readers who may not be in interfaith families themselves, Being Both is still a compelling read, providing a window into a fascinating segment of American religious diversity."
Margaret Ellsworth, State of Formation.
"One of the great pleasures of Being Both is that it's written by a writer—and if you think that's a tautology, I have a thousand other books for you to read."
Dale McGowan, author of Atheism for Dummies, Secular Spectrum on Patheos.
"More than a manual–it offers a fascinating and truthful picture of the world as it is.  Anyone who is interested in questions about how we figure out who we are and where we belong will find it fascinating.  Sue bravely declares what many people already know to be true:  identity is not monolithic.  We are not all completely one thing or another thing."
Reverend Heather Kirk-Davidoff, Grounded & Rooted in Love.
"…a great mix of personal experience, stories, quotes, and factual information. It's easy to read, but it's also highly informative."
Vicki Garlock, FaithSeeker Kids
"The primary go-to resource with some very pertinent and helpful information as we navigate new identities and realities as American Muslims," 
Saadia Faruqi, Altmuslim on Patheos.
"…the most compelling thing about this book is that it's not asking permission or begging for acceptance on behalf of interfaith families. Katz-Miller is a first-class disruptor.  She is secure in her interfaith lineage, unapologetically claiming a space for herself and her family and for others who are part of this movement," 
Amanda Quraishi, interfaith activist.
"…remarkable…No one has explored the details and nuances of interfaith relationship in our intimate lives like Miller," 
Paul Chaffee, commenting on a Patheos blog critique.
"This is one book where the temptation to wax poetic is extremely strong, perhaps calling it 'the jewel in the heart of the lotus' or otherwise indicating that it is indeed priceless."
Trudie Barreras, Amazon
"There is simply *no book* out there like this one that explores and names our reality, its sticky bumps, its beauties, and the things we need to consider as the kids mature. Must read for anyone marrying a person of another faith."
Amazon reader
"I was so glad to read a book that is so clearly enthusiastic about the experience of raising children in more than one faith. I found myself saying 'amen' (silently, in my head, since I was on the plane) almost every page!"
Robert Hornstein, Amazon
"…without question a myth busting, highly readable book on a controversial, misunderstood subject."
Amazon reader