Speaking, Teaching, & Coaching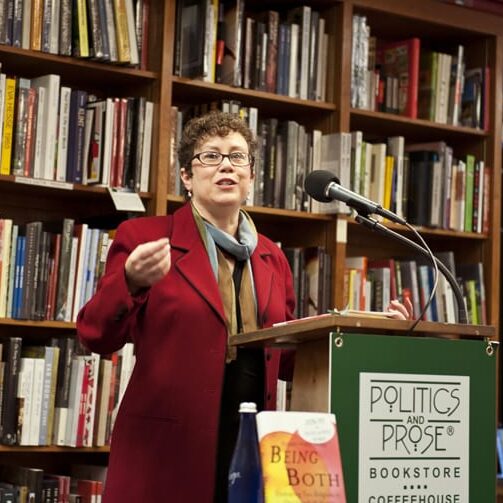 Work with Susan Katz Miller
Experience transformative conversations with Susan Katz Miller, a leading expert in Interfaith families, communities, and peacemaking. With a wealth of experience, Miller has graced the stages of national conferences, colleges, universities, and religious institutions, captivating audiences. She also hosts #GenInterfaith: An Interfaith Story Slam, and can bring this program to your community, encouraging individuals to share their own interfaith family stories and complex identities. And, Miller can put multiple religious practice into global and historical contexts.
Backed by extensive research from her two acclaimed books and a lifetime in an interfaith family, Miller weaves together new information and personal insights in every engagement. She is available to conduct keynote lectures, workshops, classroom visits, and brown-bag conversations, fostering personal growth and interfaith understanding.
Parliament of the World's Religions
Interfaith Center of New York
North Hill Retirement Community (MA)
Interfaith Coalition of Bowie (MD)
One Spirit Interfaith Seminary (NYC)
Nisa-Nashim Jewish Muslim Women's Network (London)
The Guibord Center (LA)
University of Birmingham (England) and Woodbrooke Quaker Research Center
Wild Goose Festival (NC)
18Doors Rukin Fellowship
Harvard Divinity School
Harvard Humanist Hub
Georgetown U.'s Berkley Center
University of Virginia
Claremont School of Theology (CA)
Union Theological Seminary (NYC)
Rabbis Without Borders, Annual Retreat
Lafayette College (PA)
Claremont Lincoln U. (CA)
Gallaudet University (DC)
Penn State Harrisburg
Illinois Institute of Technology
Museum of Jewish Heritage and Holocaust Memorial (NYC)
Jewish Museum (NYC)

UU Association, General Assembly (Sophia Fahs Keynote)

World Council of Churches/United Church of Christ
President's Interfaith and Community Service Campus Challenge (DC)
Parliament of the World's Religions (UT & WA)
UU Church of Silver Spring MD
UU Congregation of Frederick MD
Interfaith Community of Long Island (Brookville NY)
Temple Sinai (DC)
Mishkan Chicago
The Family School (Chicago)
Kol Hadash Humanistic Congregation (Chicago)
Lakeside Congregation (Chicago)
Temple B'nai Israel (Easton MD)
Interfaith Opportunity Summit 2016: Embracing the New Jewish Reality (PA)
#GenInterfaith: Interfaith Story Slam
Raising Children With Both Religions: Why Families Do It
Complex Religious Identities: Busting Binaries
Five Ways to Find Your Own Best Interfaith Family Path
#GenInterfaith: Interfaith Story Slam
Five Ways to Find Your Own Best Interfaith Family Path
Growing Up in a Three-Generation Interfaith Family
Practicing More Than One Religion: Who Does That? And Why?
Interfaith Education–For Interfaith Children, and for All of Us
Interfaith Families in the Fluid and Flexible Religious Landscape
Raising Children With Both Religions: Why Families Do It
How Clergy Can Support and Learn From Interfaith Families
How Religious Institutions Can Engage With Families "Doing Both"
Doing Both: It's Not the End of Judaism (Or Any Other Religion)
Interfaith Dating and Marriage in the 21st Century
Complex Religious Identities: Busting Binaries
The Peacemakers: The Role of Interfaith Families in Interfaith Dialogue
Muslim, Hindu, Buddhist, Atheist: Next Wave Interfaith Families
Jewish Community Centers (JCCs)
Secular Humanist Student Groups
Muslim Students Associations
Colleges & Universities
Seminaries
Churches & Synagogues
Professional Conferences
Secular Humanist Groups
Interfaith Groups

Jewish Book Council

Hillel (Jewish students)
Newman (Catholic students)
Wesley Foundations
Muslim Students Associations
College Chaplains
Jewish & Religious Studies Departments
Jewish Community Centers (JCCs)
Retirement Communities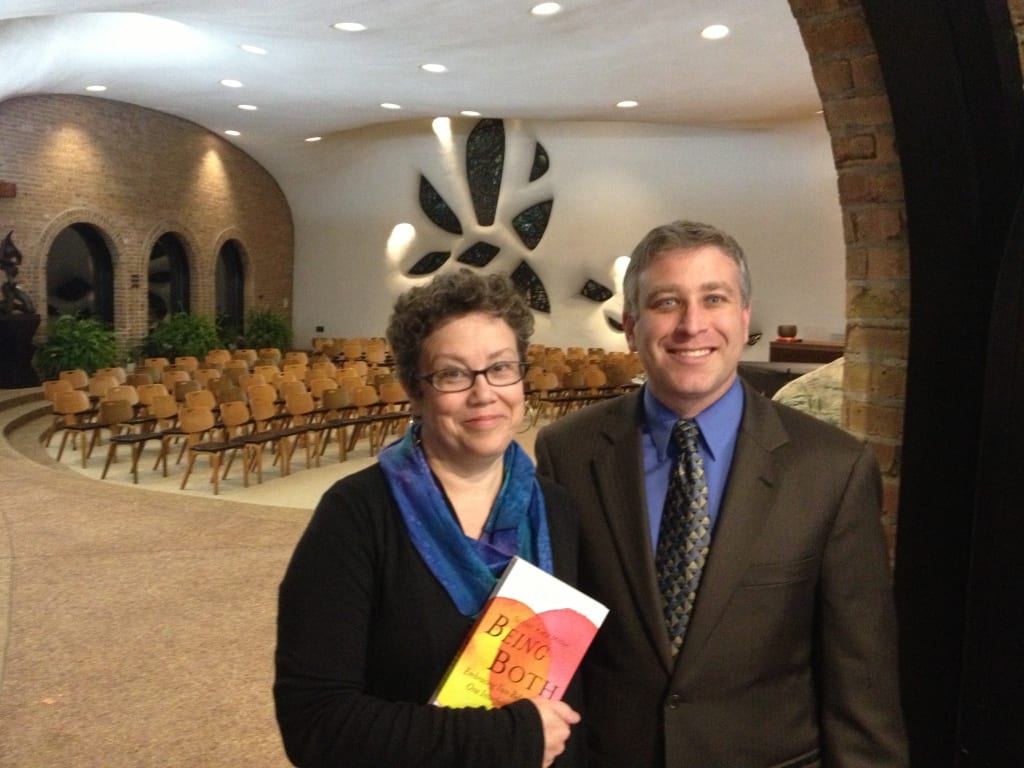 Susan Katz Miller is available as an online interfaith coach for individuals, couples, and groups. Find your way to a more joyous community, relationship, or identity, by embracing the richness of the interfaith landscape (both internal and external). Individual or couples coaching, help with new community formation, guidance for religious educators and clergy, workshops and professional development.
Interfaith couples
Interfaith parents and grandparents
Adult interfaith children
New interfaith family communities in formation
Clergy and religious educators serving interfaith families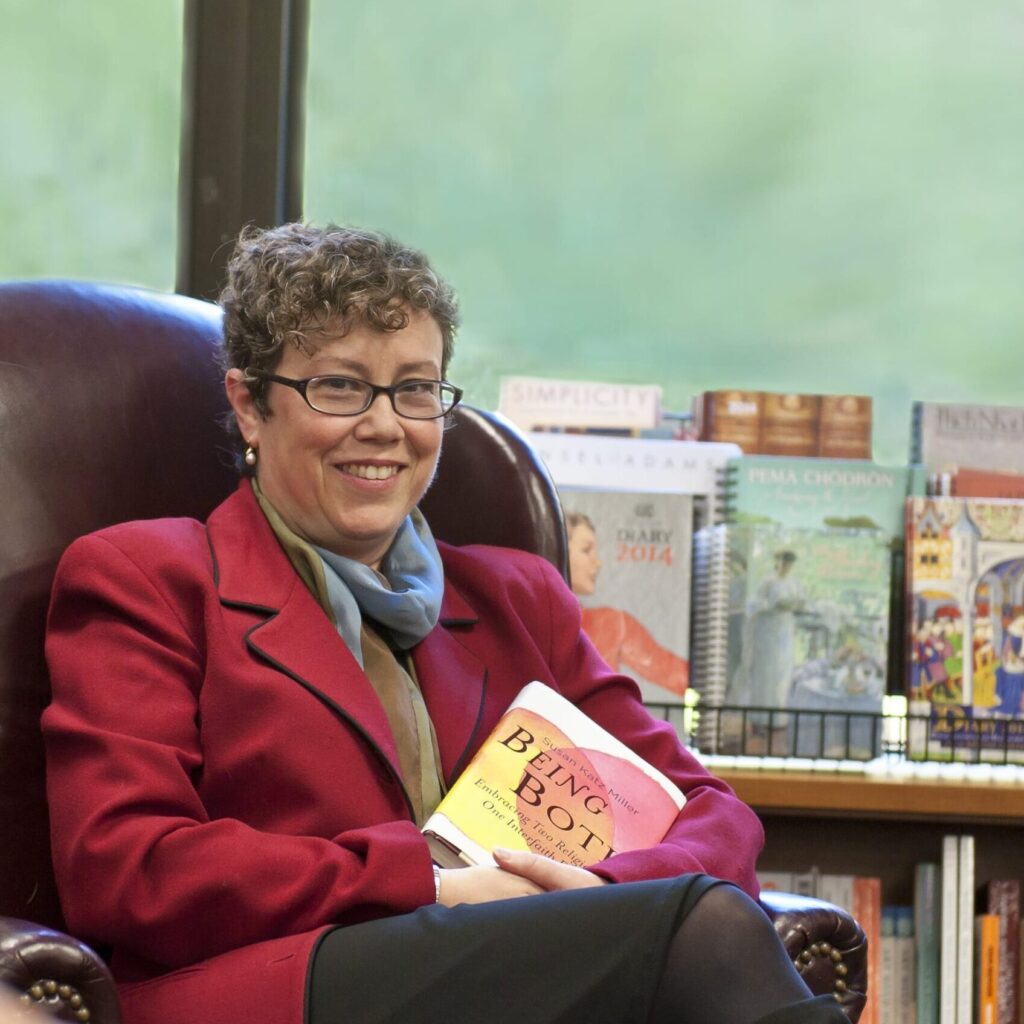 Miller presents lively and interactive workshops on interfaith families, multiple religious practice, and interfaith peacemaking. She is available to bring these workshops to clergy, seminarians, rabbinical students, religious educators, social workers, therapists, college students, and high school and college teachers.
"Got More Than One Religion?" a video series on multiple religious practice on YouTube.
"Got More Than One Religion?" an educator toolkit on multiple religious practice here.
"thoughtful" "articulate" "inspiring" "engaging" "welcoming" "dynamic
Discover a world of interfaith possibilities by emailing skm@susankatzmiller.com with your interests and event details. We look forward to the opportunity to collaborate with you and create an extraordinary learning experience together.
"Students at Lafayette College are still talking about Susan Katz Miller's presentations on campus, even six weeks later. Her ability to raise important, provocative questions with humor and grace created a safe and welcoming space to discuss issues of dating, religion, race, family and identity. Miller is a thoughtful, engaging speaker and author who understands the issues college students are facing."
"Close to 100 people attended including an Orthodox rabbi, a minister from the United Church of Christ, previous imams of a near-by mosque and interested families struggling with the challenge of how to accommodate two faiths. Susan proved herself to be an articulate and dynamic speaker. Her personal story is beautifully told and Susan rises to the challenge of questions with clarity and aplomb,"
"A dynamic speaker and storyteller, Susan Katz Miller is opening up a vital conversation with sensitivity and skill. By elevating the often overlooked stories and perspectives of interfaith families, couples, and individuals, Susan has a great deal to teach atheist and religious communities, college and university students, and general audiences. The stories she shares are deeply instructive—if we listen carefully, people of diverse beliefs and backgrounds can learn much about how to live together from Susan's thoughtful, inspiring, and well-researched approach."
"Thank you for sharing your expertise, honesty, humor and experience with all of us! Listening to someone articulate everything that you believe inside is an incredible gift that fills doubt with confidence, loneliness with connection, and ignorance with knowledge. We left feeling prouder, lighter, more whole, and frankly elated by you! May many others get the opportunity to receive your gift."
"…rave reviews for the clarity, sensitivity and practicality of your talk."